---
---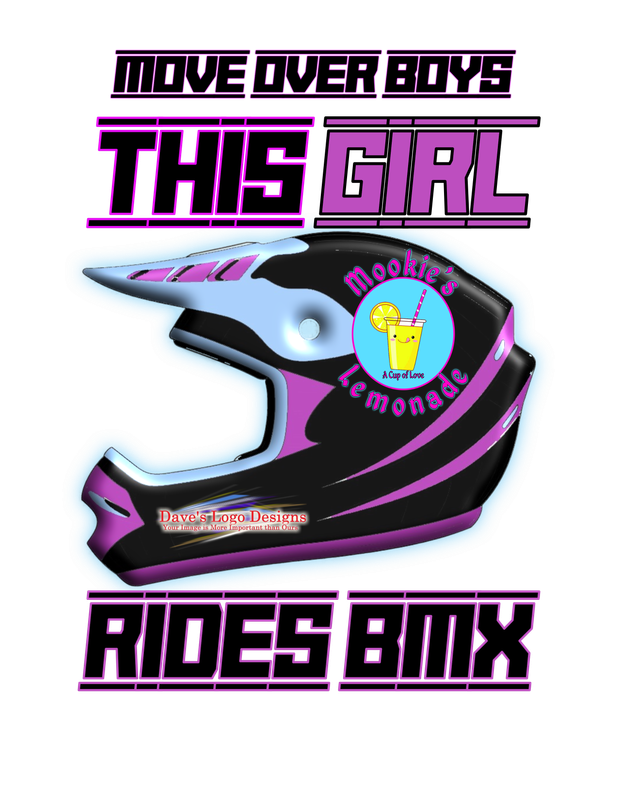 This girl Rides BMX - Boys Watch Out!
Dave's Logo Designs and Apparel is proud to sponsor Mookie's Lemonade" and she also BMX races. This means we're also proud to put all boys on notice. She's fast, and she's coming!
CUSTOMIZING INSTRUCTIONS AND GUIDELINE
This item can be customized. If your family has their own racing team (if no logo, we can create it), but must contain the fact that it's for GIRLS. The logo would replace the Mookie's Lemonade logo. If you support Mookie and her ability to race, we can create your name on the front of the shirt (left chest only).
We can create similar shirts, but it would be needed to pay for a new design AND for all shirts. No exceptions.
How to Order a Custom Order
E-mail custom request to daveslogoapparel@gmail.com BEFORE you order any product to be customized. IF YOU ORDER A CUSTOM ITEM THEN MESSAGE US, YOU WILL NOT BE REFUNDED. WE CANNOT CUSTOMIZE AN ORDER ALREADY ORDERED.  In the e-mail, mention the product by Title, and what you'd like to do.
You will tell us what your requested changes are, and we will make them, send you a view of what it could look like. If you approve, YOU MUST PURCHASE THE SHIRT. No Exceptions. If you don't like the design, we can continue to tweak the design until you cannot live without it.
Additional cost MAY apply, depending on the design change, the additional print (front chest). The cost will be added to the cost of the shirt and will be told to you upfront. If you agree to changes, you agree to the price, you MUST PURCHASE THE ITEM.
Click Here to view all the items in the Mookie's Lemonade Collection
Click Here to view all the items in the Infants and Kids Apparel Collection
T-Shirt Style is G500B 5.3oz 100% Cotton Shirt
---