---
---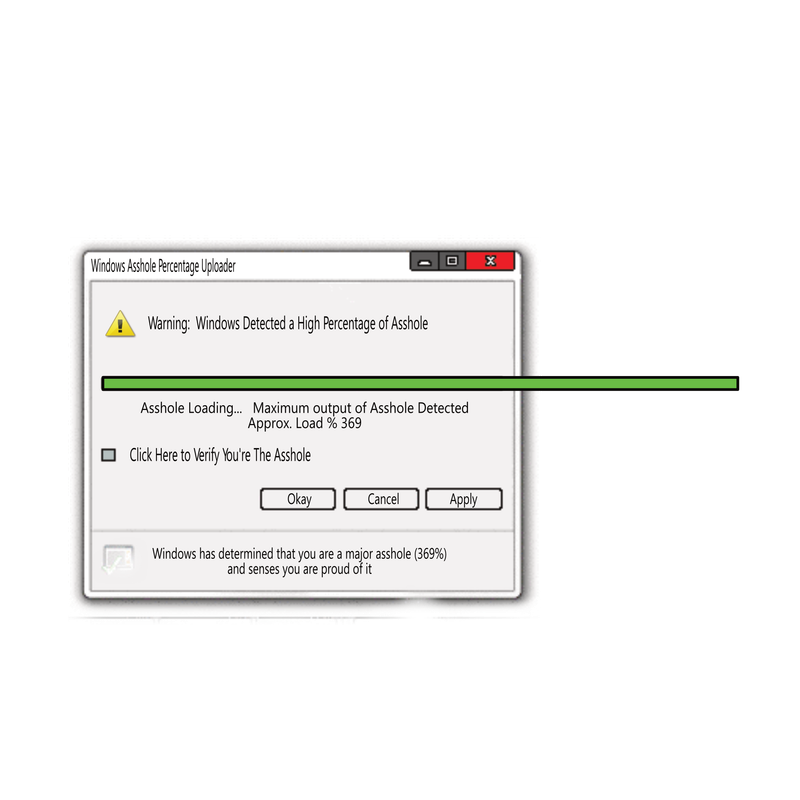 This Item is Available for Customizing - See Description
We All Know Someone who is Like This
We all have someone in our lives, who is just an asshole... good, or bad, they definitely fill the requirement. This shirt is our way of letting them announce that with pride. Featuring the Asshole loading bar, you can customize it with any percentage you'd like, and even go as far as putting the print either on the front or back (no additional charge).
Customizing Instructions
Do Not Order Any Item to Customize BEFORE Contacting Us
If you want to customize this shirt, E-Mail Us to request the customizing
Be specific on the percentage of asshole you want us to use, and any other information (loading bar and box must remain). IF you want to add a print to the front, it's $5.00 extra. IF you want to change where the picture is (front or back), there will be no charge. Any changes will be free of charge.
If you approve a custom design, you must purchase the product.
Click Here to view all the items in the Adult Apparel Collection
Click Here to view all the items in the Funny Apparel Collection
T-Shirt Style is G500 5.3oz 100% Cotton Shirt
---