---
---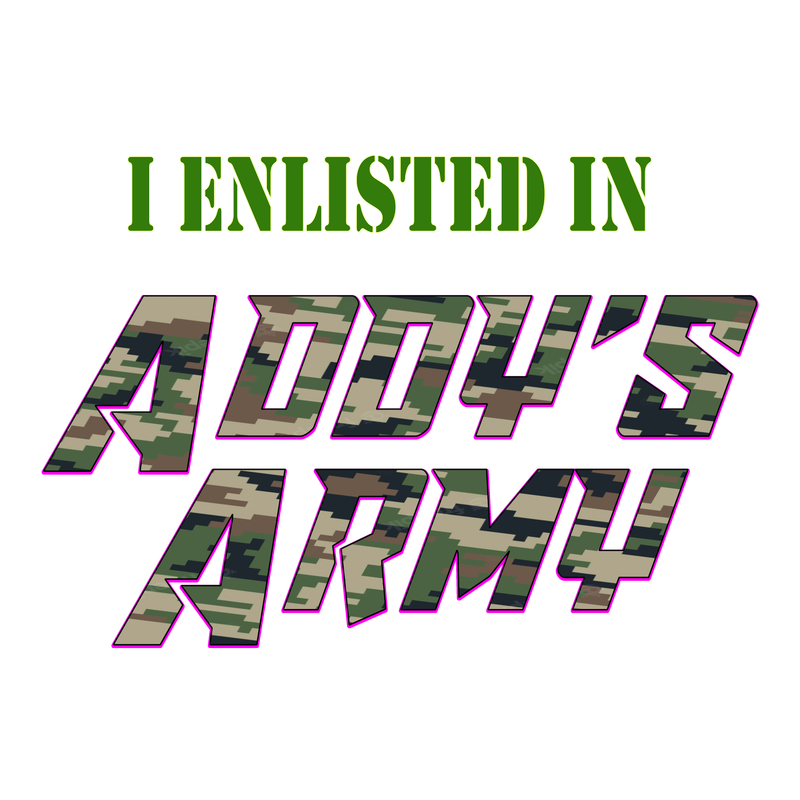 This Shirt Is For Addy, And It Screams Her War Cry
This Item Can Be Customized - See Customizing Instructions In the Description
We are huge supporters and are proudly enlisted in Addy's Army. Addy is a 6-month-old little girl from Massachusetts who was diagnosed with cancer. We made the entire Addy's Army Collection to help the family offset medical bills.
This infant shirt is printed with Custom Cat Digisoft Printing. This means the print will be vibrant, long-lasting. With the look of screen printing, but the lasting of direct to garment. We love them. We know you will too!
CUSTOMIZING INSTRUCTIONS
We believe that any child with cancer should have this war cry. This is why, the customizing on this shirt is the name, and name only. We know it's not much, but it personalizes for the kid in your life, fighting, but fighting harder than you'll ever know.
Customizing Instructions
Do not order the shirt until you E-Mail Us and let us know who the army is for. NOTE: Shirts only available in Grey or White
If you order the shirt as you see here, you will not be given a refund, but we will get you the one you're asking for, for the price of the shirt. There is no higher cost for customizing
Click Here to view all the items in Addy's Army Collection
Click Here to view all the items in the Kids and Infants Apparel Collection Click Here to view all the items in the Charitable Items Collection


 

The shirt Style is 3322
---