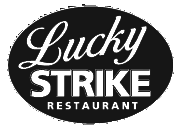 Lucky Strike Restaurant - Hearty, Healthy Helpings Since 1948
Since 1948, the Lucky Strike Restaurant has been serving guests Hearty, Healthy Portions in Chicopee, Massachusetts.  Founded by Charlie Dugre, he ran the business until the mid-80s, when he gave it to his son, Michael, and daughter, Michelle.  
Michelle and Mike ran the restaurant until February of 2019, when they sold the restaurant to James, the owner of the Country Trading Post, also of Chicopee, MA.  
The restaurant remains the same, serving quality food at can't beat prices.  Serving great specials, the usual fare, great wines and beers, and homemade deserts.  
Click for more information on Lucky Strike, go to the Lucky Strike Website
---